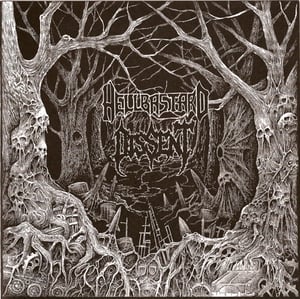 $

5.00
UK crust originators HELLBASTARD team up with TX crust grinding disciples DISSENT! 3 brand new tracks from DISSENT for their first 7" release and 2 tracks from HELLBASTARD, one from 2009 and one re-recorded track from their 1986 Rippercrust demo.
Limited to only 500 copies with cover art from artist Daniel Shaw (INSECT WARFARE, STORMCROW, WAR MASTER, MUNICIPAL WASTE)
Last 20 copies found! After that- gone for good!